Pontypool
- Bruce McDonald 2008
Eve: The Temptation
- Britt Randle 2002
Dada Dum
- Britt Randle 2007
The Deaths of Chet Baker
- Robert Budreau 2009
Kaheksa aastat tagasi oli mul päris karm paanikahoog. Kui alul sees keeras ning ma ei suutnud sekunditki paigal püsida, siis enne kaelalihaste krampi ja teadvuse kaotust lõi kõne segamini. Mõtlesin peas üht, kuid suust väljatulevad sõnad olid hoopis teised, kusjuures samas sain ise väga hästi aru, et räägin hoopis seosetut iba. Tahtsin kõrvalseisjatele teatada, et on ülipaha olla ja abi paluda aga välja tuli otse kui lapselalin, laused ilma mõtteta ning sõnad õhust haaratud.
Seetõttu tulid mulle vägagi tuttavad ette momendid kus nakatunu hakkas järsku sõnu kordama ning käänama ilma, et sel oleks mingisugust seost olnud hetkeolukorraga. Mõistsin seda hirmu mis neid haaras enne kui sõnajõud mu mõtte täiesti enese alla mattis, teadsin väga hästi mis tunne see on kui sa oma kõnet järsku enam ei kontrolli. Sõnaviirused ei ole uudne teema, minu arust tegi sellest juttu isegi Grant Morrison, küll aga suudab see nakatatud kõne teema siiani mu uudishimu hoida.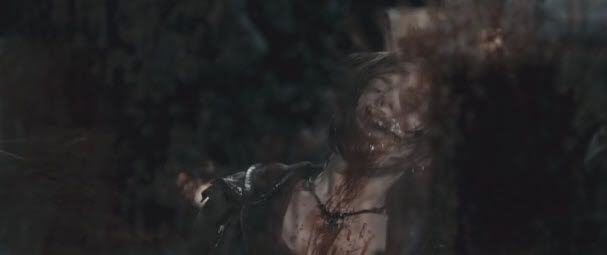 Kahjuks aga ei pakkunud Pontypool sedalaadi ulmelist (?) teemat piisava nutikusega, idee toodi küll letile, kuid jagama ei hakatud. Minu poolest oleks võinud 20 minuti jagu raadiloba vähemaks võtta ning selle asemele nakatunud sõnade teaduslikku tausta pakkuda, seletada mitmeid kõneviiruse teooriad ning sinna vahele pakkuda...näiteks kõnekoodiga avatud füüsilist mutatsiooni.
Väheseks jäi keldriruumi surutud põnevusest kui ka intrigeeriva teema taustakäsitlusest, kunagiste indietööde eest kultuslavastaja staatusesse pääsenud mehe jaoks liiga lihtne teos. Boonusena kaasas olevad
Britt Randle
´i lühifilmid
Eve: The Temptation
ja
Dada Dum
jätsid Marilyn Mansoni ja Tool´i videote mulje ning
Robert Budreau
The Deaths of Chet Baker
jättis lihtsalt külmaks. 2,5/5
Väike lõpuvallatus.