Taxandria
- Raoul Servais 1994
Film koosnes justkui kahest osast millest esimene, ehk raam oli tüütu nusberdamine ja teine silmailu pakkuv fantaasia. Animaator
Raoul Servais
oli oma ulmemaailma loomisel kasutanud põhjana Benoît Peeters´i koomiksisarja "Les Cités Obscures" kust võeti Taxandria linna arhitektuur ja kujutised ning asetati näitlejad sinna joonistatud maailma lavastaja enda loodud meetodil, segades filmi animatsiooniga. No laias laastus nägi asi välja nagu Tery Gilliami lavastatud film segamini tema multikatega, kuid pisiasjades oli Servais ainulaadne.
Kahjuks aga ei olnud suurepäraselt loodud miljöö keskel toimuv fantaasialugu parimate killast ning reaalses elus ( kuigi ka siin annab aimata väljamõeldud riiki ja situatsioone ) toimuv pidurdas minekut veelgi. Isiklikult oleklsin eelistanud vaid väljamõeldud Taxandria kuningriigis toimuvat, mis sellest, et täispika töö asem,el oleks siis vaadanud alla tunni kestvat animatsiooni. Ja kui veel sinna Taxandria potti oleks paar tilka sinna imehästi sobivat aurupunki lisatud, saanuks mõnuga kohe huuli limpsida. 3/5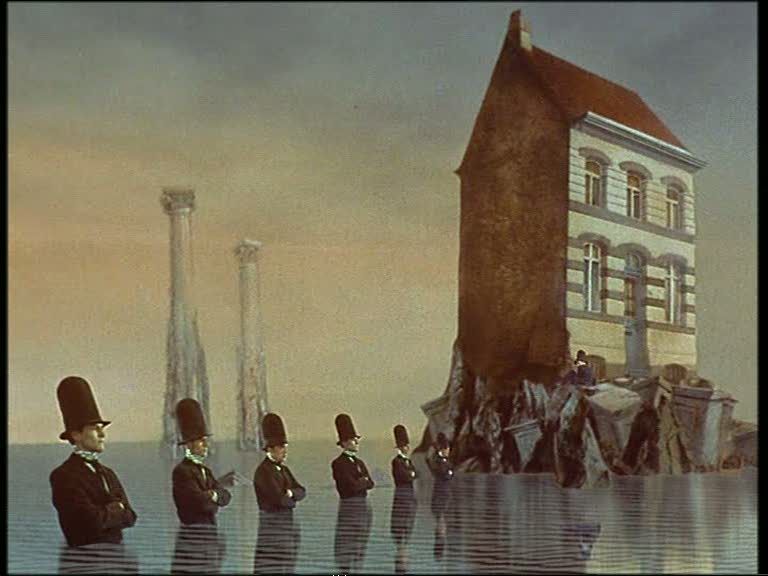 Animeeritud Taxandria linn mis saanud inspiratsiooni prantsuse koomiksisarjast "Cities of the Fantastic".