Andres mitte ainult ei vea edasi Bestia nimelist bändi mille mitmekesisuse mahutavus mulle alles viimaste nädalate jooksul kohale on jõudnud, vaid tegeleb ka intensiivselt eesti hea muusika tutvustamisega, andes kohalike bändide muusikat oma plaadifirma kaudu välja.
Hexenreich Records
on kuue aasta jooksul reliisinud peale kohalike mustametalli bändide veel ka hingesugulasi Iraanist, Austriast, Itaaliast ning Argentiinast, välja andnud nii CD-kogumikke, DVD-sid kui helikassette ning omab distrona laos vähemalt paarisaja tumedat muusikat viljeleva grupi plaate. Hinnad on taskukohased igale matsile ning limiteeritud kogused muudavad valdava osa plaatidest peatselt haruldusteks. No paljud Hexenreich´i väljalasked ongi juba lõpuni müüdud ning pisar tuleb silma, et olen ise nendest ilma jäänud.
Nimi
: Andres
Bänd
: Bestia
MySpace
:
Bestia
Koduleht
:
Bestia
Koduleht
:
Hexenreich Records
1. Millised filmid sulle muljet on avaldanud, ehk mis on sinu lemmikfilmid?
Esimese hooga nimetaks "
Dead Man
i", kui hakata järgi mõtlema siis ma polegi ühtegi halba filmi Johnny Deppiga näinud (parematest lisaks siia veel "
The Ninth Gate
" ja "
Ed Wood
"). Järgmiseks tuleb meelele "
Pulp Fiction
", mida kunagi sai päris tihedalt vaadatud. Verisematest filmidest mainiks ära kindlasti Hannibali filmid ("
The Silence of Lambs
", "
Hannibal Rising
", "
Hannibal
"), "
Hostel
", "
Texas Chainsaw Massacre
" (see uuem), "
Dead Snow
", "
Nekromantik
" (ei ütleks et just lemmikfilm, aga vajutas omal räigel moel templi mällu igaveseks). Kui sorida kaugemates mälusoppides siis kunagi lapsepõlves sai alati silm punnis vaadatud "Viimset reliikviat", "Navigaator Pirxi", "Hukkunud alpinisti hotelli", venelaste tehtud Scherlock Holmesi sarja (eriti "
Agra aare
" ja "
Baskerville'ide koer
"), hiljem tulid veel "
Terminaator
", "
King Kong
" ja Indiana Jonesi filmid.
2. Milline oli viimane meeldejääv filmielamus?
Viimati sai kinos käidud paar aastat tagasi ja üldse ei meenu mis seal jooksis, seega paneks kirja hoopis DVD mida kodus viimati vaatasin. Tegu oli venelaste tehtud filmiga "
Kukushka
", väga lahedad tegelaskujud on seal.
3. Mis muusikat viimasel ajal kuulanud oled või julged soovitada?
Kauaaegsetest lemmikutest soovitaks Absut ja Carpathian Forestit.
Viimasel ajal on aga mu muusikamasinast tihemini läbi käinud sellised mustmetalsed üllitised:
Shining - Svart Industriell Olycka
Ymir - Hrimthursar
Tarm - Siis kui laantes saabub hämarus
Fourth Monarchy - Amphilochia
Infer - Sede Vacante Aeternum
Tänan Andres!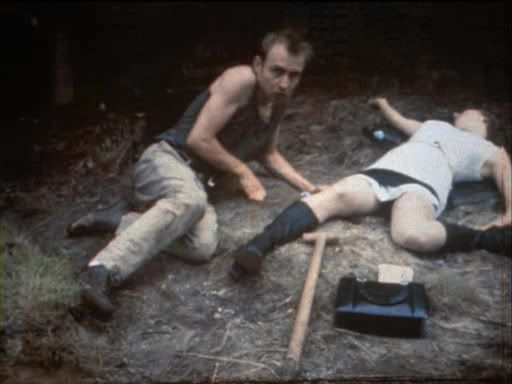 Kaader filmist Nekromantik.