The Small Back Room
- Michael Powell, Emeric Pressburger 1949
Teise Maailmasõja aegsel Inglismaal toimuvad saladuslikud plahvatused kus alati inimohver kes on luure andmetel on kokku puutunud saladusliku lõhkeseadeldisega. Milline see sakslaste heidetud pomm välja näeb ja mis seda plahvatama võiks panna, seda kutsutakse välja selgitama riikliku sõjaleiutiste büroo, ehk "Väikese tagatoa" juhataja, viinaveaga mees kellel kõige enim oskusi pommide demineerimisel? Koos hakkaja sõjaväekapteniga asub mees ootama järgmist pommileidu, et välja selgitada müstilise uudse miini omadused ning see kahjutuks teha. Alkohoolikust pommiekspert saabki lõpuks võimaluse lõhkekeha kõrval viinajääke verest välja higistada.
Kui
The Hurt Locker
Oscareid noppis, ütles paar filmisõpra, et hea linalugu küll, kuid The Small Back Room sisaldab ikkagi kinoajaloo kõige põnevamat demineerimisepisoodi ja Piinakamber ei pääse sinna lähedalegi. Tundub, et mina olen rohkem mainstream mees kui kinoklassika austaja, sest minu jaoks olid Hurt Locker´i pommi kahjutukstegemise stseenid hulga huvitavamad kui käesoleva filmi suur finaal.
Oli põnev ja pinev küll, kuid kogu linalugu ise keris pinget hulga rohkem üles kui lõpus toimuv pommi tutvustus ning selle lahti tegemine välja kandsid. See, et pommi välimusest ega sütiku käivitusmehhamismist midagi ei teatud, tundus nii äge ja salapärane, et pärast pommi nähes sai vaid imestada, kuis sakslased üldse nii rumalale ideele said tulle ja sääraseid asju taevast alla loopida. Tundus lihtsalt, et paari miini poetamine Inglismaale ei ole vaeva väärt, paar inimohvrit ei kaalu üles konstrueerimise ja kohaletoimetamiseraskusi. Põnevik mis pommidest juttu tehes oli põnev aga sõltuvuse ja armuteemasid lahates igav. 3/5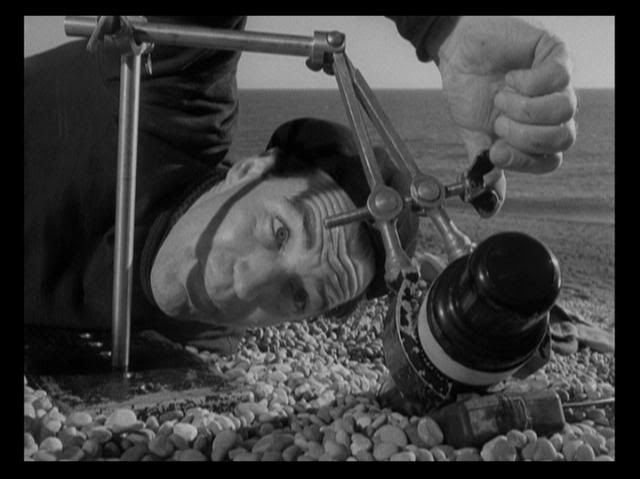 Una Bomba!