Teisipäeval ilmus Nailboard Recordsi alt Ceremonial Perfection´i album "Alone in the End". Ise ma melodeath´i fänn ei ole ning ausalt öeldes ei suuda üldse mõistagi kuidas death metal ja meloodiline ühte lausesse sobitada, saati siis sõnasse, kuid bändi energiline lähenemine mulle väga sümpatiseerib. Täpsemalt öeldes energia mis on viinud viis noort suure Venemaa plaadifirma alla ning toonud neile ka väiksema kohaliku plaaditrüki lepingu, lisaks hulgaliselt piiritaguseid esinemisi, eetriaega mitmetes välismaa mainekates raadiojaamades ning ohtralt meediapinda online kui ka paberväljaannetes. Kõik on nad ise teinud ja surunud, kasutanud ära igat pisemadki võimalust oma bändi nime tuntuks teha ja väsimatult oma muusikat reklaamides saavutanud juba teismelistena selle millest mitmed hulga vanemad muusikud vaid unistavad. Bändi põhiline mootor ja hingega Ceremonial Perfection´i asja ajav Roman Demtsenko leidis aega nappideks vastusteks.
Nimi
: Roman
Bänd
: Ceremonial Perfection
MySpace
:
Ceremonial Perfection
Koduleht
:
Ceremonial Perfection
1. Millised filmid sulle muljet on avaldanud, ehk mis on sinu lemmikfilmid?
Law Abiding Citizen
,
The Curious Case of Benjamin Button
, 12,
99 francs
2. Milline oli viimane meeldejääv filmielamus?
Law Abiding Citizen
3. Mis muusikat viimasel ajal kuulanud oled või julged soovitada?
Väga erinevat ja palju. Aga, julgen soovitada :
Ozzy Osbourne - Scream
Before The Dawn - Deadlight
Slayer - World Painted Blood
Ja palun proovige Ceremonial Perfection - "Alone in the end" ka ;)))
Tänan Roman!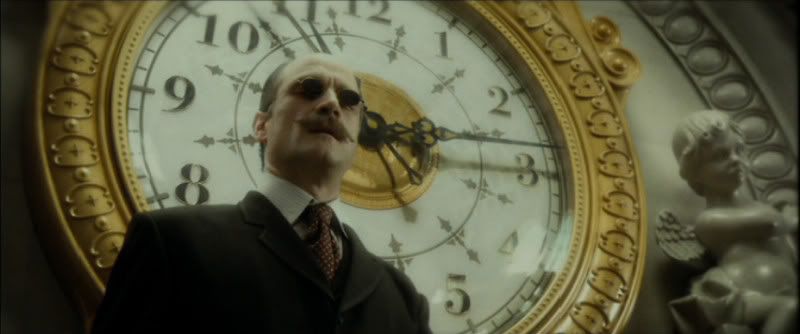 Kaader filmist The Curious Case of Benjamin Button.