Kõigepealt oli Daggers, siis Tallinn Daggers ja nüüd Harlots and Daggers. Arusaadavalt on eesti musaskenest puudu veel Elephants Dagger. Aga see selleks. Räägime parem Harlots and Daggers´ist ja mainin kohe ära, et suhtus esimese loo põhjal bändi suure reservatsiooniga, kuid tundes Martinit veel ajast kui ta kiilaspäine gängster oli ning teda Väikeseks Martiniks hüüti, teades tema muusikamaitset, ehk bände mida mees andunult austab ning võttes arvesse tema pillimänguoskust, julgen veksleid välja käia, et sealt võib veel head rock´i tulema hakata. Esimese singliga aga on veel küll tunne, et kogu energiast kulus 70% stliseeritud fotode tegemisele ning 30 muusikale. No vähemalt muusikale mis mind koheselt raputaks ning rebiks. Aga ootame-näeme! Mina hoian pöialt, sest head garaažist rögarokki mahub siia eestisse veel küll ja küll.
Nimi: Martin Jyrman
Bändid: Smilers, Harlots and Daggers
1. Millised filmid sulle muljet on avaldanud, ehk mis on sinu lemmikfilmid?
Definetly...
1.The Good, the Bad and the Ugly ( yldse makaroni vesternid :)
2.Uuno Turhapuro filmid... fukkin hilarious...
3.Takashi Miike looming... Audition, Visitor Q (viimane oli ikka päris cool, nii, et naerda sai... must huumor)
4.David Lynch, enamus stuffi...
5.Andrei Tarkovsky (Stalker)
6. Stanley Kubrick (
A Clockwork Orange)
neid filme on muidugi palju veel, kuid siis peaks oma ajus juba tuhlama hakkama...
2. Milline oli viimane meeldejääv filmielamus?
Hehee... Drive...arvatavasti...kuidagi staatiliselt chill film, hea musaga
3. Mis muusikat viimasel ajal kuulanud oled või julged soovitada?
Jees, uut musa on nii palju...
City and Colour
Attack in Black
The Coppertone
Gallows
Marmozets
The Jezabels
The Joy Formidable
Hellacopters... (good old)
Slipknot kaa hommikuti, kui madalrõhkkond on ja yles ei saa...
palju Soome musa...
Tänan Martin!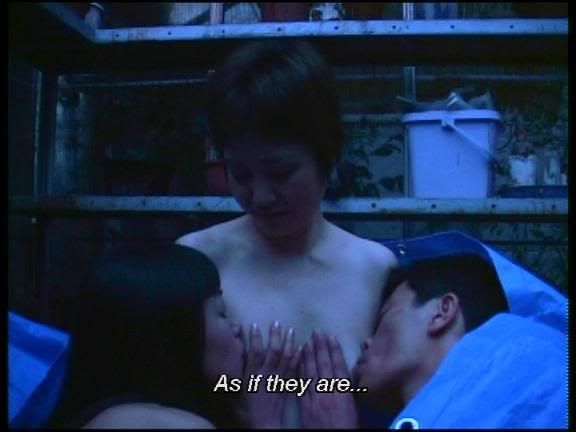 Kaader filmist Visitor Q.